2008.10.15 - 2008.11.29
Vincent Fournier : Space Project and Tour Operator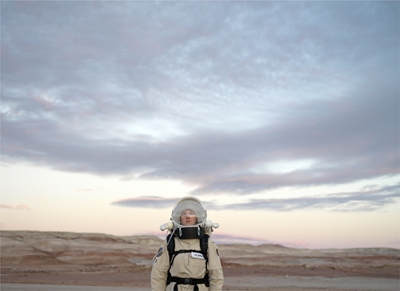 MARS DESERT RESEARCH STATION TEAM54
HANKSVILLE, UTAH, UNITED STATES, NOVEMBER 2006


Marunouchi Gallery is pleased to announce the first exhibition of a French photographer, Vincent Fournier.

Born in Burkina Faso (Ex-French colony) in 1970. Fournier is receiving a high valuation on his works in Europe. Especially his commercial photographs are flourishing and he is contributing works for major companies such as TGV Atlantique, and telecom company, Orange. This year, the advertisement for MIR (French detergent), in which Fournier has participated, received Bronze Lion Press at Cannes Advertising Festival 2008.

For the exhibition at Marunouchi Gallery, a collection of works from Fournier's major projects called 'Space project' and 'Tour Operator' are going to be introduced. As its title suggests, 'Space Project' was photographed at several space stations around the world. One might sense that the images appeared to be as constructed photographs as they suggest old fashioned and mysterious machines and a man wearing a space suit standing on a desert. However, everything what 'Space Project' is showing are actual space stations, institutions and staffs. A quest for Fournier's life work of photography, he seeks out 'scenes of contradiction'. For example, analogue-like machines in side of an institution or crews of a research centre simulating a tentative life of Mars at a corner of a desert, those images might miss people's idea or prejudice towards what space study is about. However, the photographs of 'Space Project' capture romanticism of the time when the Universe was still beyond man's reach.

'Tour Operator' is another series of Fournier, which subjects cross-cultural similarity and difference. This series may also produce discordance between images of Fournier's works and preconception of audiences. However, Fournier humorously portrays common human behaviors and demeanor from various cultures and places.

We hope you enjoy the world of Fournier's colorful and highly aesthetic art works, and look forward to greeting you at our 'Space Project'.
 
>>biography
>>Exhibition View

Courtesy of Galerie Acte2, Paris France
Galerie Web Site
http://www.acte2photo.com
Artist's Web Site
www.vincentfournier.co.uk




Space Project is accredited by the 150th Anniversary of France-Japan Relationship.

Supported by